Dental Implants At New Image Dentistry
Dental implants are the revolutionary, state-of-the-art tooth replacement option that can save your smile. They provide many benefits which are unmatched by traditional tooth replacement solutions like bridges, partials or dentures.

How Dental Implants Work
The bottom part of the implant, which looks like a screw, is placed in your jaw during a simple in-office procedure. The screw is made of titanium, a material that is biocompatible, meaning your body won't reject it. In fact, over time your body will grow more bone to fuse with the dental implant. The implant screw becomes firmly embedded in your bone and won't move.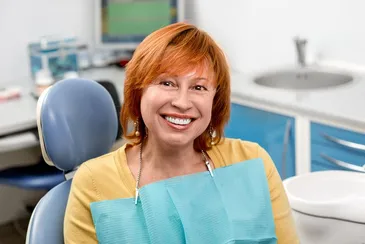 Once the implant screw is firmly embedded and your tissue is fully healed, our dentists will place a natural-looking dental implant crown on top of the screw. You now have a new tooth! Dental implants can replace one or more missing teeth. They can also provide a supportive framework for a denture, which is snapped in place over the implants.
Dental implants look completely natural
Dental implants are cleaned by simple brushing and flossing
Dental implants won't ever move around
Dental implants can last throughout your lifetime
Dental implants won't ever decay and they resist stain
Benefits of Dental Implants
Unlike other dental restorations, implants are designed to be permanent. Once they have healed successfully, they are virtually indistinguishable from your natural teeth. Like natural teeth, they require meticulous oral hygiene and regular dental exams and professional dental cleanings to help prevent infections and gum disease. Implants are the only restoration that help to prevent bone loss in your gums. An implant can be used to replace a single tooth, or a set of dentures — with just a few implants! If you are in good overall health and have enough bone density, dental implants may be a good option for you.
Another important benefit of dental implants is that they also help you retain the youthful fullness and contours of your face, especially your firm jawline. Your body produces more bone to fuse with the implant and the increased bone production fills out your facial contours. You won't have the sunken, sagging look of someone who wears dentures for a long time.
To find out more about Bakersfield dental implant treatment and what dental implants can do for your smile, call New Image Dentistry in Bakersfield, CA. Restore your smile by calling today! (661) 238-0148